Operation Chart of NST and PR Series Reduction Gear Motor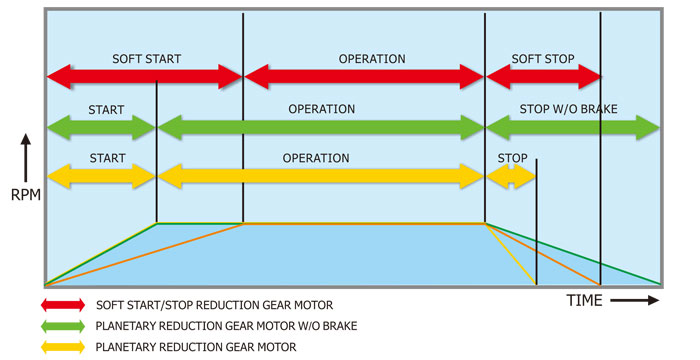 Reducer
Reducer housing is formed from FC25 high strength material and machined with precision on computer programmed CNC machine.
Gears machined from SCM21 material, teeth are machine grooved, then gears are heat treated to high hardness for long life.
Flywheel (Soft Start / Stop)
Incorporate a flywheel provide a smoother acceleration and greatly reduces the pendulum motion when decelerating.
It provides a restraining effect on the starting torque of the motor thus providing a smooth start and stop.
Motor
Motor housing design provides rapid heat disspation.
Motor offers compact design, low starting amperages while yielding high starting torque; A mandatory requirement for motor
Electromagnetic Brake
DC brake provides excellent braking capability and easy to adjust and control the braking force for custom application.
Employs wear-resistant linings for longer life.
Quality implementation based on customer satisfaction, work efficiency & safety oriented. Acquired the SGS ISO 9001, CE certificate, and relevant certification of crane, hoist, lifting equipment, material handling.

We promote all staff with quality operation in the whole manufacturing & serious test process. Management as Supervising Quality Assurance Authority, and Quality Issue Correspond & Practice. Achieve self quality assurance, all data and parts deliver to the next process, such as from supplier chain control, raw material inspection & acceptance to stock control. From design, development, manufacture, test to delivery which must meet S.O.P. procedure. Comply with international standard or bespoke request that through our very precise facilities, professional experience & technique, trained communication and coordination of team work step by step, towards overall manufacturing to make products defect free. It gives high value to our brands.