【SHANG HO LI-Probiotics】
Probiotics can adjust their physique and improve their allergies
Ameliorate the symptoms of allergies and adjust the Constitution probiotics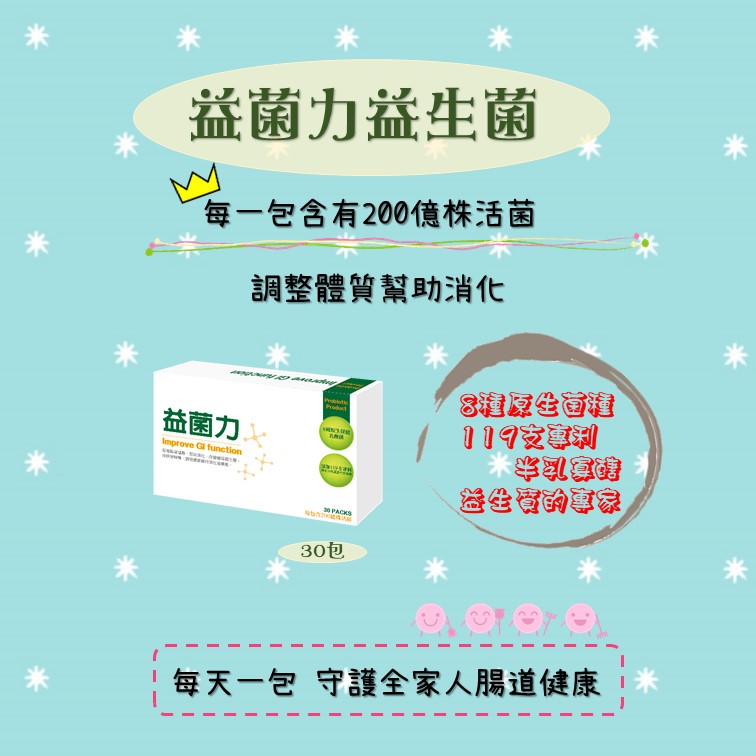 SHL-4713361435287
Content:10 billion cfu/sachet;2g/ sachet,30 sachet/Box.
Ingredients:
Bacillus coagulans "
Unique IS-2

"
Lactobacillus plantarum
Lactobacillus fermentum
Lactobacillus rhamnosus
Lactobacillus paracasei
Bifidobacterium breve
Bifidobacterium animalis subsp. lactis
Lactobacillus casei
Bifidobacterium bifidum
Bifidobacterium longum
Lactobacillus acidophilus
Lactobacillus delbrueckii subsp. lactis
Lactobacillus helveticus
Lactobacillus reuteri
Streptococcus thermophilus
Bacillus coagulans、Galacto-Oligosaccharides,GOS、Inulin、Green papaya extract、Bromelain、Yoghurt powder、Lactose 、Maltodextrin、Citric Acid.Key Features:Well-known international companies in USA – Unique IS-2 Bacillus & 15 kinds of primary health Lactobacillus that complete through the gastrointestinal tract. Enzymes, dietary fiber of chicory will promote intestinal peristalsis, digestion, and improved distribution of bacterial flora .So that defecation smooth and adjust the constitution to maintain digestive function.
Content:1~2sachet daily. Consume directly or mix with preferred beverage.
Storage:2 year. Please place at a cool place to avoid heat, humidity and daylight.
Country of Origin: Taiwan


Basic Information:SHANG HO LI TRADE CO.,LTD.
Phone Number:+886-4-2437-5337
FAX Number:+886-4-2437-3437
Address:No.120, Sec. 2, Jianhe Rd., Beitun Dist., Taichung City 406,Taiwan (R.O.C.)
♠

We're looking for agents and dealers.

♠
Contant us for more information.
E-mail:hungmau02@gmail.com
♣ If you need more professional information, please write to us and let me provide to you.



TFDA food business registration information Number:B-142883068-00000-8