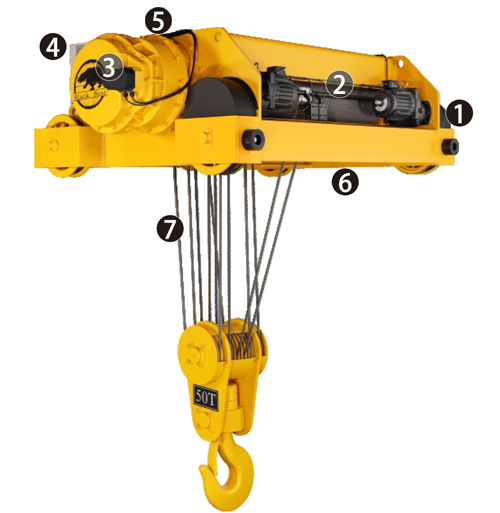 Hoisting Motor & DC Brake Assembly
Permanent magnetic motor design : 1.5 times of starting current. 230% high starting torque. Compared with traditional insulation motor which has 6-8 times starting current, PM motor save energy at least 30~50%.
Permanent magnetic motor : during the loading operation, temperature rising balance 55°~ 60°.
Permanent magnetic motor: motor brake system triggers when motor rotation approach stop which makes brake lining with longer life span compared with traditional motor.
New (DC) magnetic brake system and motor operate synchronously which makes the brake with stronger brake force.
Brake force design at 150%, Max. 200%.
2.Rope Guide (Lever)
To ensure positive winding of wire rope; Prevent rope overlapping.
3.Planetary Geared Limit Switch Assembly
Up & down are with auto stop limit switch device. Prevent rope over-roll.
Able to setup / stop location according to working environment.
Patents :
Taiwan patent no. M466909
German patent no. Nr. 20 2014 006 109.2
Japan patent no. 3193570
China patent no. ZL 2014 2 0395985.8
United States patent no.US 9263201
4.Control Box 5.Brake Resistor
VVVF Lift Drive : Saving 30% of power consumption compares to traditional control.
Speed adjustment : the ratio of max. speed 1/10. The range of low/high speed can be adjustable. Two-steps switch to select low/high speed.
6.Load Cell
Check the load weight from detector. Prevent overload to ensure the safety.
7.High Strength Wire Rope
IWRC 6 XFi.(29)-H The safety factor and strength are more than 6 times to ensure the lifting safety.