PE powder Hot Melt Coating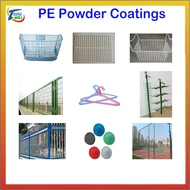 Offer Type:

Sell

Country:

Taiwan

Valid Date:

2018-08-09 - 2018-11-16
Spec:

Features: acid and alkali resistant, insulation, heat resistant, cold resistant, UV resistant, anti-aging, etc. (approved by ROHS testing).(Also acceptable for customer demand about different environment to formulate).

Application: Various electrical, electronics, machinery,
automobiles, motorcycles, bicycles, hangers, fences, hanging hooks for plating, various hardware parts with dipping coating hot melt protection, etc.

Also available for plastic powder processing, such as EVA powder / POE powder / EAA powder / TPU powder / PS powder / NYLON powder/PA powder/TPE powder, etc.

Disclaimer:Trading Post does not warrant or guarantee the completeness, truth, accuracy, or suitability of the contents for any particular purpose. Users must rely solely on their own skills and judgement in use and interpretation of the information available on Trading Post.