COUNTING BEARS CLASSROOM SET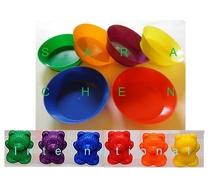 Offer Type:

Sell

Country:

Taiwan

Valid Date:

2018-08-11 - 2018-11-17
Spec:

S-7140AP-66 COUNTING BEARS CLASSROOM SET

* 60 rainbow Colored Bears and 6 stacking sorting plates per set.

* Size: Baby bear, 4g.

* 6 bright colors assorted: red, yellow, blue, green, orange, purple.

* 66 pcs per set / bag.

* Material: solid plastic. (weighted)

* Very good ideal for early math skills, counting and sorting.

* The proportionally weighted bears can be used as weights and counters on a balance, too.

* Very good to sell them as teaching aid, toys, game set, gifts and promotional purpose.


Disclaimer:Trading Post does not warrant or guarantee the completeness, truth, accuracy, or suitability of the contents for any particular purpose. Users must rely solely on their own skills and judgement in use and interpretation of the information available on Trading Post.