Locking C-Clamps European Type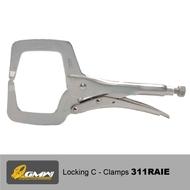 Offer Type:

Buy

Country:

Taiwan

Valid Date:

2018-09-17 - 2018-12-24
Spec:

Locking C-Clamps European Type

Gong Maw Item No.:311RAIE
Size:11"/ 275mm
Max. Jaw Capacity:3 1/7" (80mm)

Contact Us : https://goo.gl/forms/I1A05WWUbhRGV6qE2

To get a strong grip on irregular shaped pieces to keep them steady.

Chrome vanadium steel jaw.

Chrome molybdenum steel handle.

Bodily heat-treated.

Brazing.

Attachment:
Sign-up to see contact info
Disclaimer:Trading Post does not warrant or guarantee the completeness, truth, accuracy, or suitability of the contents for any particular purpose. Users must rely solely on their own skills and judgement in use and interpretation of the information available on Trading Post.