TRIANGLE PUZZLES BOX (3D PUZZLE)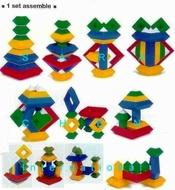 Product Detail:

***** Happy ! Funny ! Smart ! Innovate thinking ! S-6509 TRIANGLE PUZZLE (3D PUZZLE) * Each set included: 15 triangle puzzle blocks. * 5 Colors blocks assorted: red, yellow, blue, green, white. * Ingeniously cuts the pyramid to use in three spatial. *** May create more than 5,000 types of patterns ! * Basic 15 pcs per set/color box * Almighty intelligent teaching aid. * Age: for over 3 years old * Copy right and other patents pending. * The blocks assembled with small plastic parts inside to make them as "Sensation blocks" which add both tactile and auditory feedback to play. * 12 basic assembling ways: Pyramid, inverse-pyramid, lateral-symmetrical stack, vertical stack of different blocks, linear stack of similar block, asymmetrical single-contact stack, symmetrical single-contact stack, sideward support stack, side-frame stack, small mortise, big mortise, twined big mortise. * Connect them together with a lot of fun, kids love them very much ! * Very good to develop spatial awareness, learn to solve problems and with creativity. * Good idea for basic mathematics operations, connect them in sequence to develop counting, sorting, graphing, patterning and measuring. *** Suitable to sell them as teaching aid, toys, gifts, table game, novelty and promotional purpose.
Disclaimer:Trading Post does not warrant or guarantee the completeness, truth, accuracy, or suitability of the contents for any particular purpose. Users must rely solely on their own skills and judgement in use and interpretation of the information available on Trading Post.