MULTILATERAL TANGRAM SET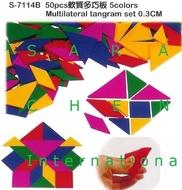 Product Detail:

S-7114B MULTILATERAL TANGRAM SET (MOSAIC GAME SET) * Thickness: 3mm. * Material: Soft plastic. * 5 bright colors assorted: Red, yellow, blue, green, purple. * 10 pcs per tangram. * 50 pcs per set/bag. * Pocket size, easy to carry. * Easy to learn and practice various tangram shapes, congruent and similar shapes, fractions, angles, area, symmetry…, with a lot of fun to play them. * Suitable for educational purpose and promotional gifts.
Disclaimer:Trading Post does not warrant or guarantee the completeness, truth, accuracy, or suitability of the contents for any particular purpose. Users must rely solely on their own skills and judgement in use and interpretation of the information available on Trading Post.