Seatmate HO109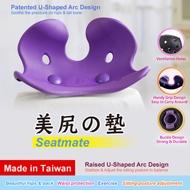 Offer Type:

Sell

Country:

Taiwan

Valid Date:

2018-12-05 - 2018-12-31
Spec:

Ergonomic design Seatmate supports our lower back from hips to waist while sitting, tilting up the spine and rectifying incorrect sitting posture.

Effectively release back pain when you sitting for a long time no matter at office or home.

Features:
1) Adjust posture for relieving the pressure after long period of sitting.
2) Cover the hips from the back to the bottom which can keep the good shape.
3) Tilt the hips to make your spine upright, comfort the back pain.
4) Ergonomic design, reduce the fatigue while sitting.
5) Soft padding covering for comfortable sitting experience.
6) Portable & light weight can be placed in everywhere to sit.
7) Waterproof, easy to clean and do maintenance.
8) Available for all ages.
Disclaimer:Trading Post does not warrant or guarantee the completeness, truth, accuracy, or suitability of the contents for any particular purpose. Users must rely solely on their own skills and judgement in use and interpretation of the information available on Trading Post.