Compact Power Massage Chair US1004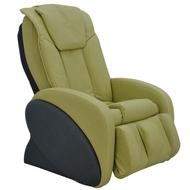 Product Category:

Beauty & Personal Care

Country/Region:

Taiwan

Make this offer expire on:

2019-03-31
Product Detail:

Compact power recliner massage chair is an entrant grade shiatsu massage chair, a simplified series without compromising quality, built on the same platform as relax genie series, but without zero gravity recline. It offers S back and S track robotic back massage to improve your lymph drainage system. The reclining structure let you recline in Inversion 190 degree posture to fully relieve pressure on spinal's disc after a day's load. Not many massage chairs are like us that massage to the hip of the user. Our calf and sole massage unit rolls and knead to stimulate acu-point and to improve lymph drainage system. Features: 1) Electrical auto recline posture up to 180 degree for ultimate back massage. 2) Ergonomic S back and S track robotic back massage. 3) 6 massage balls deliver massage actions. 4) 4 fixed spine-remedy rollers purporting posture correction. 5) Auto and manual operation. 6) Massage action includes kneading, tap-kneading. 7) Rollers relocation adjustment, special for point massage at neck, shoulder, waist, and so on. 8) Calf and sole rolling massage. 9) Seat with vibration massage function.
Contact Information
| | |
| --- | --- |
| Company Name | HSIN HAO HEALTH MATERIALS CO., LTD. |
| Contact Person | Mr.余珊姍 |
| Email | art133@massage-products.com.tw |
| Country/Region | Taiwan |
| Business Phone Number | +886-47793313#12 |
| Company Website | http://www.massage-products.com.tw |
Disclaimer:Trading Post does not warrant or guarantee the completeness, truth, accuracy, or suitability of the contents for any particular purpose. Users must rely solely on their own skills and judgement in use and interpretation of the information available on Trading Post.