GEOMETRIC VOLUME SET, 15 PCS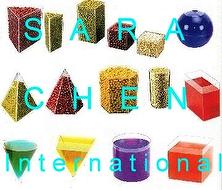 Offer Type:

Sell

Country:

Taiwan, ROC

Valid Date:

2017-10-12 - 2018-01-18
Spec:

S-8312 GEOMETRIC VOLUME SET, 15 PCS

* Material: plastic.

* 15 PCS PER SET/WHITE BOX

* 15 VARIOUS SHAPES' CONTAINERS ASSORTED.

* CLEAR SOLIDS.

* Can be filled with solids or liquids to learn.

* Great to teach students the relationship between shape, mass and volume.

* Easy to operate and learn.

* The best teaching aids.



Disclaimer:Trading Post does not warrant or guarantee the completeness, truth, accuracy, or suitability of the contents for any particular purpose. Users must rely solely on their own skills and judgement in use and interpretation of the information available on Trading Post.