FROBEL PUZZLE SETS (DIY PUZZLE)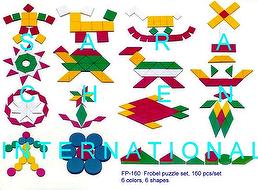 Offer Type:

Sell

Country:

Taiwan, ROC

Valid Date:

2017-10-12 - 2018-01-19
Spec:

FP-160 FROBEL PUZZLE SETS (DIY PUZZLE)

* 160 pcs per set / bag.

* Material: plastic.

* Size: 3.5cm at least.

* 6 colors assorted: red, yellow, blue, green, orange, white.

* 6 shapes assorted: big triangle, middle triangle, small triangle, square, circle, rhomb.

* Age: 3 & up.

* Assemble them together with a lot of fun, kids like them very much !

* Good to develop spatial awareness, learn to solve problems and with creativity.

* Good idea for basic mathematic operations, great to develop counting, sorting, graphing, patterning and measuring.

* Very good to sell them as games, puzzles, DIY, crafts, teaching aids, toys, gifts and promotional purpose.


Disclaimer:Trading Post does not warrant or guarantee the completeness, truth, accuracy, or suitability of the contents for any particular purpose. Users must rely solely on their own skills and judgement in use and interpretation of the information available on Trading Post.