ART AND CRAFT STICKS, 1000 PCS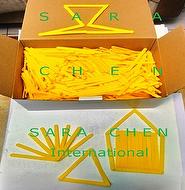 Offer Type:

Sell

Country:

Taiwan, ROC

Valid Date:

2017-10-12 - 2018-01-19
Spec:

ASS-1000B ART AND CRAFT STICKS, 1000 PCS (COLORED PLASTIC STICKS)

* Size: Small.

* 1000 pcs per set/white box.

* Color: yellow color or 4 colors assorted.

* Material: high quality plastic.

* These inexpensive and creative linking sticks are soft and bendable, easy to build 2D and 3D figures.

* Special designs for loads of art and craft projects.

* Can be used as counters, too.

* Different colors help to identify various shapes.

* Great tools to learn to build, identify and describe geometric shapes and can practice to identify edges, face and learn to compare them at the same time.

* Very easy to operate and learn.

* Economic value, cheap in pricing.

* Customer's designs are welcome.

* Very good to sell them as DIY craft sets, teaching aids, 3D toys, puzzles, gifts, hobby collection and promotional purpose.

Disclaimer:Trading Post does not warrant or guarantee the completeness, truth, accuracy, or suitability of the contents for any particular purpose. Users must rely solely on their own skills and judgement in use and interpretation of the information available on Trading Post.