ABACUS BEADS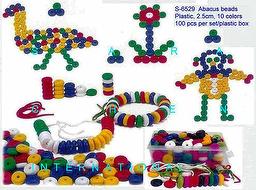 Offer Type:

Sell

Country:

Taiwan, ROC

Valid Date:

2017-10-12 - 2018-01-19
Spec:

S-6529 ABACUS BEADS

* 100 pcs per set / plastic box.

* with 3 colors laces: one bundle.

* Diameter: about 2.5cm, inside hole: 0.5cm.

* Material: plastic.

* 10 bright colors assorted, 10 pcs per color.

* Age grading: for 3 years old and up.

* Great to learn counting numbers and more concepts of math...

* Help children to learn addition, subtraction, counting, sorting and comparing….

* Very easy to learn ! And with a lot of fun !

* Different packing way with cheaper pricing as following is workable:

S-7121 (Abacus beads, 5 colors assorted): 200 pcs per set/poly bag.



Disclaimer:Trading Post does not warrant or guarantee the completeness, truth, accuracy, or suitability of the contents for any particular purpose. Users must rely solely on their own skills and judgement in use and interpretation of the information available on Trading Post.